WPX Hosting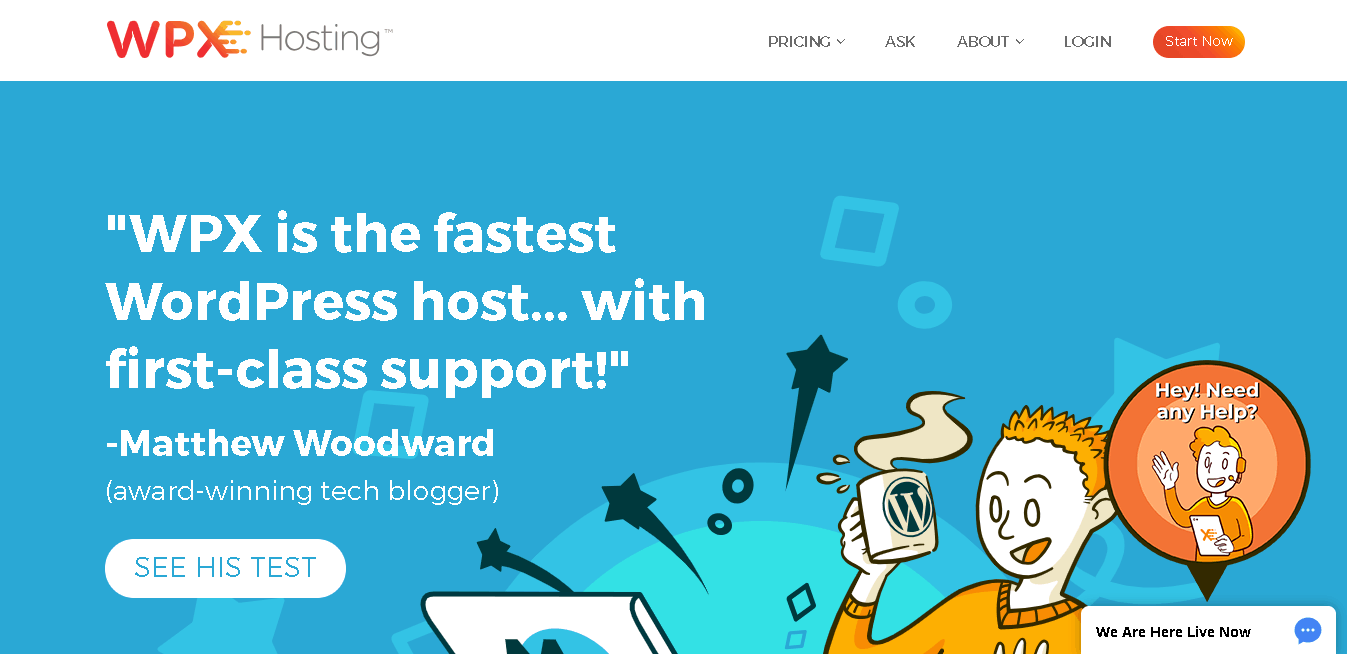 Your website's speed is critical to your online success. Your website will benefit from speedy loading times no matter what its aim is, from fun blogging to selling items online.
Increasing the visibility of your website in search engines can help you attract more visitors. Faster websites also have greater conversion rates, which means more people will sign up for your email list, click on links, buy things, or take some other action.
WPX Hosting was designed with the goal of delivering fast-loading websites. We'll take a look at what WPX Hosting has to offer in this WPX Hosting review. If you're starting a new WordPress website or looking about upgrading your existing site's hosting, read this WPX Hosting review to see if this service is the best fit for you.
Let's take a quick look at why you might want to move to a quicker web host and increase the speed of your website with the help of some data before we get into the WPX Hosting review proper.
According to certain surveys, if your site takes more than 3 seconds to load, 57% of visitors will leave and go somewhere else. Eighty percent of those visitors will never return, and half will tell their friends and family about their bad experience.
If you sell things or provide downloads from your website, you'll be interested to note that when load times increased from 1 second to 4 seconds, conversions dropped dramatically. They did, however, see a 2% boost in conversion rate for every 1 second of improvement. Firefox cut the time it took for their site to load by 2.2 seconds and increased downloads by 15.4%.
There is a wealth of data and studies that demonstrate both the negative impact of poor loading times and the good benefits of enhancing site speed. Even if you're not a multibillion-dollar corporation, I'm confident that your website could benefit from faster loading speeds.
So, now that we've discussed why you need a fast website, how do you go about making it faster? Choosing a high-performance web host is one of the quickest and easiest ways to speed up your WordPress website. As a result, if you wish to benefit from the advantages of a fast-loading website, our WPX Hosting review will be quite useful.
We'll begin this WPX Hosting review by looking at some of the top features and perks that come with joining up with this web host. After that, we'll take a look at WPX Hosting's user experience and price alternatives.
Features of WPX Hosting
If you're looking for managed WordPress hosting, you're probably concerned about site speed and loading times. A well-managed WordPress hosting service has a lot to give. However, the main reason that website owners are willing to pay a premium to sign up with these companies is because of their performance.
Let's examine how fast WPX Hosting is before we look at the features and user experience of this website.
WordPress Website Backups on a Daily Basis
WPX hosting will back up your website on a daily basis as part of their service.
WPX Hosting preserves backup files on a different server for further security and keeps them for 28 days, which is longer than many other servers. With only a few clicks, you can effortlessly restore any backup.
You can also build a manual backup as needed, which is useful to do shortly before making a major change:
WordPress Website Migration Service for Free
If you now have a WordPress website, you might be thinking if it's worth it to upgrade to a quicker web host. There are plugins and solutions that might assist you in migrating your WordPress website. However, the procedure isn't always simple.
WPX Hosting, thankfully, provides a free site moving service. The migration service is said to take 24 hours to finish. Your complete WordPress website will be transferred from your existing web host to your new WPX Hosting account by the team. The service also includes the migration of email associated with that website.
Email Service
Email is included in all WPX Hosting plans. This allows users to send and receive emails using the domain name's associated email address. You can select to have email forwarded to another address, such as your Gmail account, while setting up email.
You can also use webmail, a client like Outlook, or a smartphone to access your emails. It's also possible to use Google Apps.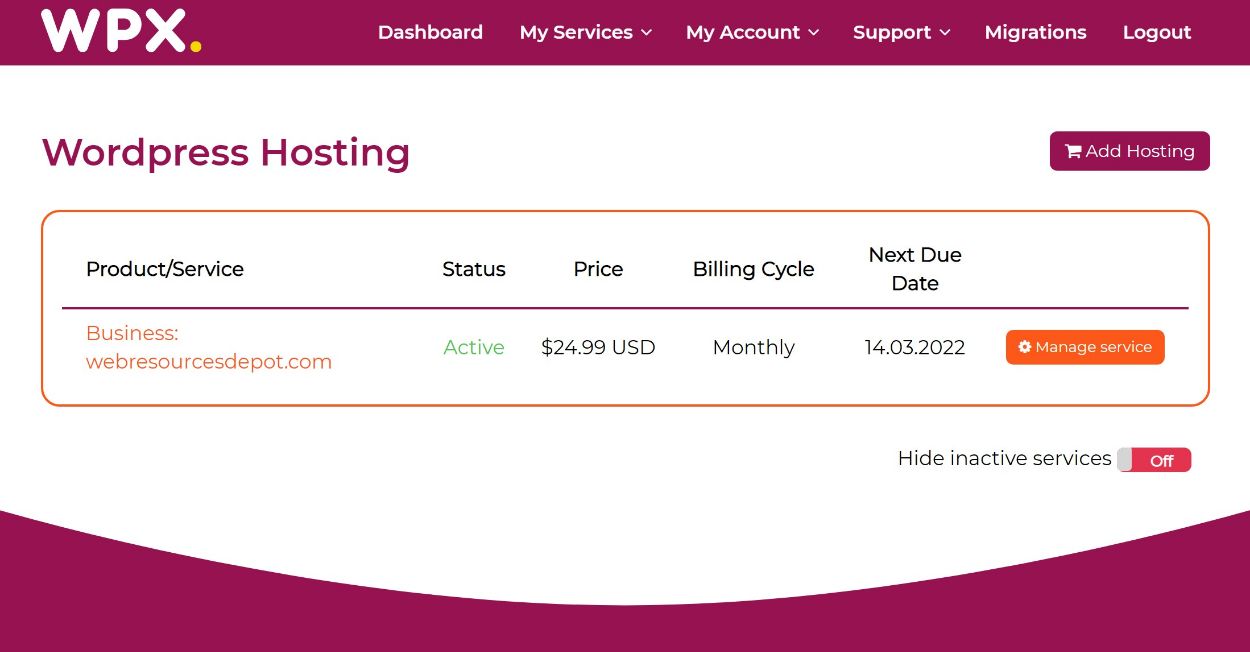 Dashboard for Management that is Simple
In the user experience section of this WPX Hosting review, we'll look at the process of installing WordPress and setting up your website. The WPX Hosting client dashboard, on the other hand, is incredibly user-friendly.
You may access your account data and services, check on any open support requests, and manage your email and websites from the WPX Hosting dashboard. You can also keep track of how much disc space and bandwidth you're using.
Access to FTP/SFTP
You can access your server space through FTP and SFTP, in addition to installing WordPress using the WPX Hosting client area dashboard. This allows you to use an FTP client like FileZilla to safely upload theme and plugin files. FTP can also be used to upload and download files to and from your server.
Support is available 24 hours a day, 7 days a week
WPX Hosting provides a live text chat service that is available 24 hours a day, seven days a week, as well as a help desk ticketing system. When I did call support, they were quick to handle my difficulties and provide answers to my queries. There's also an online knowledge source that should answer any queries you have and assist you in resolving any problems.
User Experience with WPX Hosting
This portion of our WPX Hosting review will focus on the user experience that this web host provides. Before installing WordPress and establishing your new website, we'll go over how to join up and create an account.
Getting Started with WPX Hosting
WPX Hosting's sign-up process is incredibly simple. We'll go through the hosting packages in greater depth later in this WPX Hosting review, but once you've decided on a plan, you may pay monthly or save $189 by paying annually.
WPX Hosting makes registering a new domain or using an existing domain name for your website simple. Personally, I like to register domains apart from the web server that I use. If you want to move your domain and website to a new web server in the future, this option may be more flexible.
Getting into the Client Area
You can log into the WPX Hosting dashboard once you've finished the order. You may examine your billing information and adjust your account and services from the dashboard.
Migrating a Website or Installing WordPress
You can make a free migration request to have an existing WordPress website transferred to your WPX Hosting account, and the support team will take care of the rest. You can install WordPress on your server space to get started if you're building a new website.
There's no need to be concerned if you're new to WordPress. Installing WordPress has never been easier thanks to WPX Hosting. All you have to do is check the box to install WordPress when creating a new site:
After you click that box, you'll be taken to a second page where you can fill out some basic information about your site, such as the username and password you'll need to log in to WordPress:
To set up page caching on your WordPress site, you'll also have the option to install and configure the famous W3 Total Cache plugin.
Apart from the option to install W3 Total Cache, WPX Hosting instals WordPress from scratch. No additional plugins or themes are installed, unlike some other site servers. The default Hello Dolly and Akismet plugins, as well as the most recent versions of the default WordPress theme, are included. This is advantageous since it keeps things simple and reduces the amount of clutter on your WordPress dashboard.
You'll have a brand new WordPress website in minutes after joining up with WPX Hosting.
Easy Staging Sites
The option to construct staging sites is another essential feature provided by WPX Hosting. A staging site is a duplicate of your "live" WordPress site where you may test changes and upgrades.
You can "push" your staging site to the live version to make your modifications live once you're satisfied with how everything works on the staging site.
With WPX Hosting, you can quickly develop a staging site and then push it live with a single click:
Taking Care of Email
As previously stated, email support is included with all WPX Hosting plans. It's simple to create email addresses for the domain associated with your website. Simply click the add email box button and fill in the necessary information.
As you can see, getting a new WordPress website up and running with WPX Hosting is a breeze. Moving an existing WordPress website is very simple thanks to the free migration service.
Pricing Plans for WPX Hosting
WPX Hosting's hosting plans and pricing are straightforward. There are just three options available. The number of sites you can host on your account, the quantity of storage you have access to, and the amount of bandwidth you can utilise are the key variations between the WPX Hosting plans.
There are no arbitrary visitor limits, unlike many other managed WordPress hosting, which is convenient if you have a high-traffic site.
It's encouraging to discover that the basic Business package allows you to host up to five websites. The $24.99 a month pricing for this plan becomes much more inexpensive if you own multiple websites or manage a few for clients. A discount is also obtained by paying annually rather than monthly.
WPX Hosting, on the other hand, classifies any staging sites you use as ordinary websites.
WPX Hosting also offers a 30-day risk-free trial so you may try out their service before making a long-term commitment.
Conclusion
WPX Hosting is a quick and simple to use web host. WPX Hosting is an excellent alternative whether you want to enhance your website's hosting or get a new project off on the right foot.
The three pricing levels keep things simple, and it's never been easier to build a new WordPress website. Anyone with an existing WordPress website hosted elsewhere will benefit from the free migration service.
WPX Hosting and managed WordPress hosting in general aren't cheap when compared to entry-level shared web hosting. If you're ready to step up, WPX Hosting is one of the more economical solutions, with costs starting at $24.99 per month and the opportunity to host up to five WordPress websites.
WPX hosting is also the best-managed WordPress hosting. Here are its features:
It provides a free SSL certificate
Free migration up to five websites
1click wordpress installation
It provides fast-response 24X7 customer services.
WPX hosting also guarantees for nearly perfect uptime.
There are different plans for buyers. Also, if you want to take the annual plan, you can get free hosting for the first three months. Let's
5 Best Affordable Bluehost Alternatives of 2021
WPX Hosting reviews, WPX Hosting coupons, wpx hosting black friday, wpx reviews, wpx hosting black friday deals, wpx hosting discount